Conference Attendees
The 2022 Annual Conference Exhibit Hall is your go-to destination to learn about products and services to enhance your knowledge and grow your practice. The exhibit hall will feature AILA Central where you can ask questions about member services, browse and purchase AILA publications and recordings, or get an AILALink demonstration and subscribe.
In addition to AILA Central, attendees can visit the exhibit hall to learn about AILA's malpractice insurance program and our preferred lending partner as well as vendors offering translation services, case management tools, and other products and services.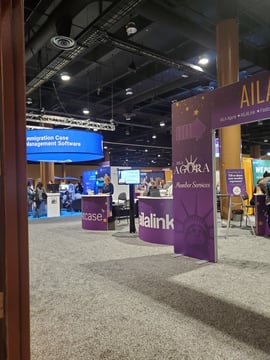 2022 AILA Annual Conference Sponsors:
Aaliyah the Brave!

ABA Retirement Funds Program

AdNet Advertising Agency, Inc.

AILA Central

AILA Lawyers Malpractice Insurance Program

American Immigration Council

BlueDot

CampLegal

Capital Good Fund

Case Status

Clover Mill Associates, Inc.

CMB Regional Centers

Commerce Payments

COURTPALS

Creative Effects Inc

District Counseling

Docketwise

Foundation for International Services, Inc. (FIS)

Gonzales & Gonzales Immigration Bonds
Harjo-Dobbs Immigration

Imagility

Immigrant Justice Idaho

Immigrant Legal Resource Center

Immigrants' List/IL Civic Action

Immigration Psychology

ImmiTranslate, LLC

Joorney Business Plans

Kranc Associates

LaborLess

LLC

Law Firm Sites

Law Office of S. Mc Clure, LLC

LAWCLERK

LawPay

Legal Soft Solutions

LexisNexis

Liberty Immigration

MobSquad

Morningside Evaluations, Inc.

MotaWord
My Legal Software

National Immigration Litigation Alliance

Open Avenues Foundation

Park Evaluations

Pichardo Immigration Paralegals

Scorpion

Silvergate Evaluations

Smith.ai

Society for Human Resource Management (SHRM)

Syndesus

Themis Solutions

Tilde Language Services

USADWEB LLC

Virtual Latinos

Visa Business Plans

Visalaw.Ai
When attending the Annual Conference, make sure you leave time to visit the providers who offer products and services that are important to a successful career and practice.
Exhibitors and Sponsors
Exhibiting
The AILA Annual Conference on Immigration Law provides exhibitors with a 4-day opportunity to network 1-on-1 with attorneys and other immigration law professionals. Don't miss your chance to meet immigration attorneys, paralegals, law professors, and law students in New York this June! There is no better way to expand your business and build relationships.
AILA offers standard and premium 8'x10' exhibit space. As a premium exhibitor your booth will be located near AILA Central. Note: there is a limited number of premium exhibit spaces available. Exhibit space is reserved on a first-come, first-serve basis. Contact advertising@aila.org to learn more about available exhibit space!
Who should exhibit? Any company that provides a product or service to immigration attorneys, attorneys or law firms!
If you haven't exhibited with AILA before, email advertising@aila.org for more information.
Sponsorships
Make your mark at the Annual Conference through premium access to member attorneys. Sponsorship packages provide an opportunity for increased exposure and allow you to stand out from your competition. Sponsorships grant first-class access to practitioners who make key buying decision for their firms.
Packages are designed to give your company maximum exposure at the most important immigration law event of the year.
Sponsorships go fast! Send inquiries regarding availability to advertising@aila.org, and find out what could be yours!
For detailed information on exhibiting, sponsorship, and advertising opportunities, contact us today!

Visit These Pages For Detailed Information:
Visit These Pages For Detailed Information: